Delete Facebook Photos – How to Delete Photos on Facebook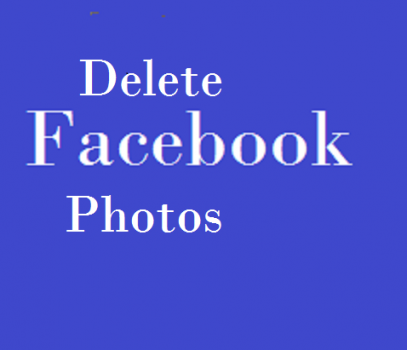 A lot of things might spring up and necessitate the need that you have to delete Facebook photos. People always have reasons for doing things; certainly, deleting pictures from their Facebook account is just one of those acts. On the other hand, there is no delete option on Facebook photos tags because those photos weren't posted by you.
However, the most common reason they give is getting a new job and wouldn't want the new employer surfing the internet checking there profile to get information concerning their previous lifestyle. While some are dealing with breakup in a relationship and want to let go of the memories those uploaded photos might stir up.
Moreover, you cannot delete photos not uploaded by you, for instance, tagged photos. But can easily ask the originator to remove/ delete the photo. If the photo is appalling then you report against such photos hoping Facebook will bring it down for violating the terms and conditions of service.
Similarly, mass-delete is way out as you can either delete album or take it one at a time.  This article is to teach you the simplest way to delete your Facebook photo on your mobile device or a desktop.
How to Delete Your Facebook Profile Picture on Android or iOS Phone
A Profile picture is that picture you will always see at the top of your profile page, it also come as a small icon very close to your messages, comment, likes, and status updates.
Steps to follow in other to delete your profile picture
Go to profile page on your Facebook account
Click on the profile image
Tap view profile picture
Click on the three icon dots at the top right side
Select Delete photo
Immediately the profile photo will be removed
How to Delete Your Facebook Cover Photo
The horizontal banner image is known as the cover photo, it's usually at the top of your profile page displaying pictures. Basically, your profile picture is inserted in the center or at the bottom left side of the cover photo.
It's very easy deleting any cover photo and this is how you can go about it.
On your profile page, click on view cover photo (the inner background picture behind the profile picture)
Click on the three icon dots at the top right side
Tap Delete photo
How to Delete Photos from Facebook Album
Facebook photo albums are mainly your collections of photos created over a time that is visible and accessible right from your profile page. Although fellow users of this platform can always browse and visit your page in as much as they are not made private as a restriction.
On your profile page scroll down and select photos
Click on the Album and then choose the album you intend to delete
Click on the three icon dots button close to feed view and  grid view button
Tap on Delete
Then confirm action by clicking on Delete Album again
How to Delete Photos Individually on Facebook App (Android)
Deleting photos from Facebook Android app individually is quite simple; just open the particular photo you intend to delete.
Open the picture
Click on the three icon dots button
Click on delete
Tap on confirm
The photo will be deleted from your Facebook account since you are the person that uploaded the photo else it will be difficult or not possible to delete assuming is a tagged photo.
Read Also: How to Enable Facebook Dark Mode