How to Link Instagram to Facebook – Connect Instagram to Your Facebook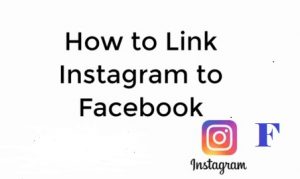 How to link Instagram to Facebook account and enjoy the benefit of sharing a post or stories on Instagram and it will automatically upload and share on your Facebook account using this simple method below.
Some may ask how do I link Facebook to Instagram on computer, can I post from Facebook to Instagram, How to connect your Instagram to your Facebook account, the answer to all these questions is;  it is possible to link two or more accounts together using an Android phone, iPhone, or computer device
On the other hand, you can also link your Facebook account to Instagram account and still maintains all information the way they have always been though, in some cases the profile picture on your Instagram changes to what is showing on Facebook which can still be corrected, while all information is not altered.
This cross-posting from Instagram account to Facebook makes it easier for friends on Facebook to view photos, stories, and post without necessarily going to Instagram account to view latest update, which also increases the likes and comment on each platform where the user is viewing it from.
However, for the Instagram business account users that will always advertise their product or services online the post will also be shared on Facebook page and is bond to reach out to more people that may be interested in their product. Moreover, on Instagram linked account when publishing a post or stories you are giving two options either to publish manually by enabling cross-posting or to publish automatically on Facebook.
How to Link Instagram to Facebook Account
These connections can only be done on a Mobile device, below is a step-by-step method on how to link Instagram to Facebook account.
First and foremost, tap to open Instagram App
Go to your Instagram profile and click on a 'Three line' icon showing at the top right side
Click on settings it will open another page containing more information's
Click on Account, and then click on Linked Accounts
At this point select Facebook (because that is the account you want to link)
Tap on link
If you are already logged in into your Facebook account it will link automatically else you will enter Facebook details and login to your account, when all necessary details are completed it will redirect back to linked Account page.
Finally, all posts published on Instagram will be shared to your Facebook account by default.
Similarly, users can always unlink or disconnect their Facebook account from their Instagram account whenever they don't want to cross-post photos or stories again.