How to Connect Laptop to TV – Connect Laptop to TV Wirelessly or With HDMI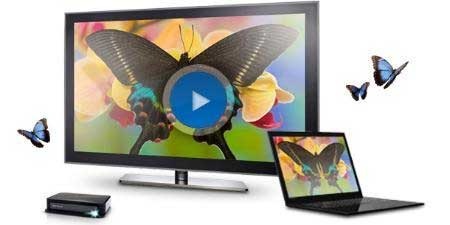 Wireless Laptop to TV Connection using Intel WiDi
How to Connect Laptop to TV with HDMI | Connect Laptop to TV Wirelessly.
Some users may wish to connect their laptop to their television for a variety of reasons. If you don't have a smart TV, the easiest way to watch Netflix, Amazon, or YouTube content is to link your laptop to a TV.
Maybe your laptop screen is not big enough to do all you desire. Then take a look at your standalone smart TV and ask whether you can link both of them. Yes! Yes, this is it How to Connect Laptop to TV!
Connecting a laptop to a Smart TV is a popular way to enjoy viewing movies on a large screen. There are several options for connecting your laptop to your smart TV. This article will cover the most typical scenario: connecting a laptop to a television through HDMI. It's rather simple. Simply continue with the next stages; You can do it immediately.
How can I get my laptop to show up on my TV?
As you may be aware, there are a variety of ways to do this. Users can link their laptops to their televisions using the following methods:
HDMI Cable connection
Connection through VGA cable.
VGA/ HDMI Converter.
USB Flash drive
HDMI to USB Type C
These are the most often used methods for establishing a connection.
Read >>>> Hulu Live TV – Stream Movies & TV on Hulu | Hulu Live
Connect Laptop to TV – Connect your laptop to your Smart TV.
A cable is the simplest method of connecting. The most common method of connecting your laptop to your television is via HDMI. All that is needed is a wire. Some modern computers, however, are so tiny that they lack HDMI connectors. That's when the rest of the steps come into play.
How to use HDMI to link your laptop to your TV
An HDMI cable is one of the most dependable (and easiest) methods to connect your TV and laptop. An HDMI cable connects two devices and sends visual and audio information.
On both ends, HDMI cables are identical, so it doesn't matter which one goes into the TV or the laptop.
To use HDMI cable to connect your laptop to your TV
follow these steps:
Connect one end of the HDMI cable to your laptop's HDMI input.
Then plug the other end of the wire to one of your TV's HDMI inputs.
Select the input that corresponds to where you plugged in the cable using the remote control (HDMI 1, 2,3)
A connection between your laptop and television results in higher image quality and less lag time.
Connect Laptop to TV Using HDMI/VGA Converter
In rare instances, a converter is required when the TV has a VGA connector and the laptop has HDMI. To use this gadget to connect your laptop to a television, follow these steps:
First of all, connect/plug your laptop to the HDMI port.
Then connect the VGA wire to your television.
To connect the two devices, plug the VGA cable into the converter.
Ensure you turn on your laptop and the television together.
With the remote, choose the PC or RGB input on the TV.
The two devices' connection should be formed automatically. If it still doesn't work, go to Settings, System, and Display.
Make sure that "TV" is chosen. Then, while holding down the Windows and P keys at the same time, pick the "Duplicate" option.
How to Connect Laptop to TV Wirelessly
Depending on your computer, you may be able to connect wirelessly instead of using wires.
To Connect Pc Laptop To Your Smart Tv:
open the action center located in the lower right corner of the screen, (It appears to be a chat bubble.)
Select Connect from the dashboard.
Click Projecting to the PC in the bottom right corner.
Select Available everywhere on secure networks or Available everywhere from the Settings page.
Choose whether to ask to project this PC for the first time or every time under "Ask to project this PC." You may also choose whether or not to require a PIN.
When your PC prompts you to connect your TV, select Yes.
Your PC will open the Windows connect program after it has established a connection.
 How to Connect Laptop to TV Wirelessly with Chromecast?
The connection may be made wirelessly with the help of a Chromecast. Follow the steps below:
Set up the Chromecast by plugging it into the TV.
Click the menu symbol in the upper-right corner of the Chrome browser.
Using the "Sources" drop-down menu, choose the content you wish to cast.
Then choose the Chromecast to which you wish to cast.
How To Connect Your Apple Laptop To a Smart Tv
Simply Follow These Instructions:
You can easily connect your laptop to a compatible Smart TV using AirPlay if you have one. Apple TV or AirPlay 2-enabled Smart TVs (i.e. Vizio TVs, LG, or Samsung) are compatible. You may use AirPlay to stream films or display the screen of your device on your TV.