How to Create Instagram Account – Instagram Sign Up for Free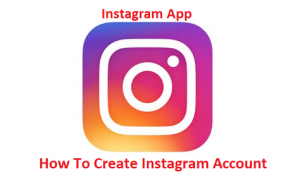 Instagram is one of the most trendy social media platforms in the world, How to create Instagram account for free and join millions of users to post pictures and videos online.
Moreover, in this platform users also send and receive messages and chat like other social media sites. Instagram is basically an internet service that comprises uploading and sharing of pictures and videos publicly to followers, through a mobile device and desktop. The services rendered include a direct message to a contact which is called DM.
Instagram has captured the heart of people when it comes to social media websites, ever since it was officially launched in the year 2010. To create a new account is very easy, simply download the Instagram app to your Android phone, iOS, tablet, or PC and install it on your device. However, one can also create Instagram business account or create a second Instagram account.
When you sign up on Instagram the username is mostly referred to as your social media handle. in other words a username is that particular name chosen to be known for on Instagram page that may be different from your real name.
How to Create Instagram Account
Creating an account on Instagram is easy as it will enable you to log in on Instagram whenever you want to share photos and upload videos on your Instagram page. In other to successfully create an account using your Android phone, tablet, iOS, or Pc simply follow the steps below.
Using an Android Phone or iPhone
Go to Google play store and download Instagram app, but if your device is iPhone visit Apple store
Search for Instagram and click on the icon to install. It will download and install automatically on your phone.
Tap to open the Instagram app on your phone
Click on Sign up with email or phone number for Android phones or Create New Account for iPhone.
Enter your email address or your phone number (the number is for confirmation code). Never the less you can click on Log in with Facebook to sign-up with your Facebook account details is optional.
Enter a username and create a password for your Instagram account, Fill your profile info and click on Next icon.
The page uploads a message like welcome to Instagram.
Similarly, if you register using Facebook details, then you will have to log in to your Facebook account assuming you log out to finish the process.
Create an Instagram Account Using Computer
In your browser go to instagram.com
Click on the Sign-up, enter an email address, fill in your names, enter a preferred username for the account and password (choose a password you will always remember).
Or click on Log in with Facebook to sign up with your Facebook account. When the profile page comes up, Edit profile if you wish else continue with the existing picture and info
Lastly, click on Submit you have opened an Instagram account.
In case you sign up using an email it is advisable to select an email address you will not forget and ensure you enter it correctly with registering.
Reach out to friends and family today on Instagram, see who is following your Instagram page.