Best Natalie Portman Movies, Ranked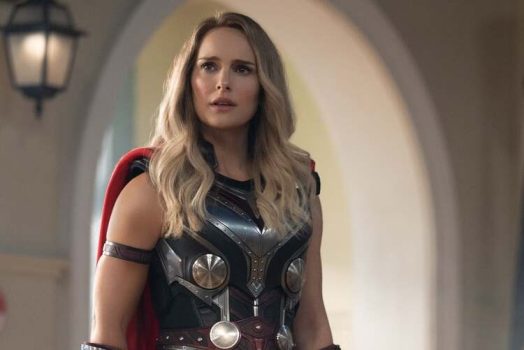 Best Natalie Portman Movies, Ranked
Natalie Portman is an accomplished actress who has appeared in a wide range of movies throughout her career.
Without a doubt, Natalie Portman is one of the greatest actors of the twenty-first century. She has left an irreplaceable mark on Hollywood's façade by appearing in more than 50 films in less than three decades.
Natalie Portman takes home the Best Actress Oscar award, and utilizing her voice and position to raise awareness of pressing problems like the Times Up movement.
Clearly, the popularity and admiration she receives are not just a result of her talent, but also of the great effort, commitment, and hard work she puts into creating her characters. Because of this, Portman's voice in Hollywood is widely recognized.
Here are some notable Natalie Portman movies:
Best Natalie Portman Movies. Ranked
Léon: The Professional
Genre: Action-crime-drama
"Léon: The Professional" (1994) – Portman gained recognition for her role as Mathilda, a young girl who forms an unlikely relationship with a hitman (played by Jean Reno).
Plot: After a dishonest DEA agent (Gary Oldman) kills Mathilda's family, a 12-year-old girl named Mathilda (Natalie Portman) is taken in by a professional assassin named Léon (Jean Reno).
It's still one of Portman's best parts because of how well she portrays Mathilda, a 12-year-old apprentice of Jean Reno's milk-drinking, innocent-appearing hitman Léon. Even harder to believe is that Léon: The Professional, an action thriller directed by Luc Besson in 1994, is her feature film debut. Léon: Portman became well-known and one of the most in-demand actors in the world because to The Professional.
Heat (1995)
Conflict arises between a team of experienced thieves commanded by Neil McCauley (Robert De Niro) and a dedicated cop named Vincent Hanna (Al Pacino) who is out to catch them.
Featuring the acting prowess of two renowned actors, Al Pacino and Robert De Niro, Heat is a brilliant crime thriller. The movie is directed by Michael Mann, who uses Los Angeles scenery, realism in the action scenes, and dark music to produce a tense and charming atmosphere.
The disturbed stepdaughter of Al Pacino's character, Lauren Gustafson, is portrayed by Natalie Portman and makes an attempt at suicide in one scene. Portman gives a succinct but powerful performance, subtly and sensitively expressing the character's mental agony.
Garden State (2004)
After being distant from his family for many years, a quiet distressed young man comes home for his mother's death.
Zach Braff, who also wrote and performed in it, made his directorial debut with the endearing and eccentric independent film Garden State. With heart and humor, the movie examines themes of love, identity, and alienation.
Andrew, portrayed by actor Zach Braff, encounters Natalie Portman's character Sam, a vivacious and eccentric young woman, and she helps him rediscover his enthusiasm for life. Portman gives a vibrant, endearing performance, and she clicks well with Braff. The movie also has a catchy soundtrack with tunes by Coldplay, Simon & Garfunkel, and The Shins.
Closer (2004)
The dark side of love, sex, and deception are explored in the precise and thought-provoking thriller Closer. The play by Patrick Marber served as the inspiration for the movie, which was directed by The Graduate (1967) Oscar winner Mike Nichols. Jude Law, Julia Roberts, Clive Owen, and Natalie Portman make up the film's impressive ensemble cast. Except for Law, all four actors give strong and nuanced performances that helped them secure Oscar nods. Law's character Dan, a British journalist, falls in love with Portman's character Alice, a young American stripper. Portman displays Alice's vulnerability in a way that is both innocent and sexy.
When the man from one couple meets the woman from the other, the ties between the two couples become tangled and dishonest.
"Star Wars" Episodes I, II & III of Star Wars (1999–2005)
Genre: Sci-fi-fantasy
Finding an actor who can capture the character's essence and make them come to life on screen is essential when casting legendary parts in movies. Natalie Portman was unquestionably the ideal choice to play the regal and tenacious Queen-turned-Senator Padmé Amidala from the Star Wars prequel trilogy..
"Star Wars" Prequel Trilogy (1999-2005) – Portman portrayed Padmé Amidala, the queen and later senator of Naboo, in the prequel trilogy of the "Star Wars" saga: "Episode I – The Phantom Menace" (1999), "Episode II – Attack of the Clones" (2002), and "Episode III – Revenge of the Sith" (2005).
The prequel trilogy to the original Star Wars movies, Star Wars: Episodes I–III, tells the backstory of Darth Vader, one of the most recognizable villains in movie history. George Lucas, who founded the Star Wars universe in 1977, is the film's director. The movies have breathtaking special effects, grand battles, enduring characters, and well-known John Williams score.
Similar movies: Star Wars: Episodes VII-IX (2015-2019), The Lord of the Rings trilogy (2001-2003)
V for Vendetta (2005)
Genre: Action-drama-sci-fi
"V for Vendetta" (2005) – Portman starred as Evey Hammond, a young woman caught up in a dystopiansociety who becomes involved with a revolutionary vigilante. It among the Best Natalie Portman Movies.
Using the assistance of a young woman named Evey (Natalie Portman), a clandestine freedom fighter going by the moniker of "V" (Hugo Weaving) plans to destroy the oppressive government in a dystopian future version of Britain.
Why it's fantastic An exciting and thought-provoking film, V for Vendetta is based on the Alan Moore and David Lloyd graphic novel. The Wachowskis, who also authored the screenplay, are the producers and James McTeigue is the director of the movie.
She also went bald for the part, which turned into one of the movie's most recognizable images. Hugo Weaving, who plays the mysterious and masked V in the movie, gives a standout performance and utters catchphrases like "Remember, remember, the fifth of November" and "Beneath this mask there is more than flesh." There is an idea hidden beneath this mask, Mr. Creedy, and ideas are impervious to harm.
The movie weaves together action, drama, and science fiction elements to tell a gripping tale of rebellion, revolution, and redemption. After being caught and subjected to torture by V, Evey has a drastic transformation in character, and Natalie Portman provides one of her most audacious and transforming performances as Evey.
Brothers
In the movie Brothers, Portman portrays Tobey Maguire's heartbroken yet sympathetic wife. In the movie, Maguire plays Sam, a soldier who is sent to Afghanistan and must leave his married and parental duties college sweetheart Grace (Portman). Tommy (Jake Gyllenhall), Sam's brother, is a prisoner who is freed from jail around the time that Sam is called to active duty. The plot focuses on Grace and Tommy's few private encounters with Sam after they assumed he had died, as well as Sam's difficulties with PTSD after the war when he returns home.
Portman does a great job portraying the wife who must deal with these situations, the marital hassle and struggles, and the drama that results while simultaneously attempting to raise her children. Given how important her position is in the movie, it's a confident and measured performance, and she does a good job combining the situations in the movie with her customary intellectual understanding.
"Black Swan" (2010)
"Black Swan" (2010) – Portman won an Academy Award for her stunning performance as Nina Sayers, a ballet dancer unraveling psychologically while preparing for the lead role in "Swan Lake."
Ballet dancer Nina (Natalie Portman) becomes fixated on improving her performance as the Swan Queen in Swan Lake, but she also has to contend with Lily (Mila Kunis), a new competitor.
Why it's fantastic The themes of ambition, insanity, and creativity are explored in the dark and twisted thriller Black Swan. The Wrestler (2008), the director Darren Aronofsky's previous film, served as an inspiration for this one. The movie combines horror, drama, and fantasy elements to provide a bizarre and unsettling experience.
Nina, who experiences a physical and psychological makeover as she gives in to her fear and delusions, is portrayed by Natalie Portman in a magnificent and unforgettable performance. Portman shed 20 pounds and trained for months to learn ballet.
Along with numerous other awards and nominations, Portman received the Best Actress Oscar for her performance.
THOR (2011)
"Thor" (2011) and its sequels – Portman joined the Marvel Cinematic Universe as Dr. Jane Foster, a brilliant astrophysicist and love interest of the titular character. She appeared in "Thor" (2011), "Thor: The Dark World" (2013), and "Thor: Love and Thunder" (set for release in 2022).
With this first episode of the "Thor" saga, Portman debuted in the Marvel movie universe. She portrays Jane Foster, a scientist who falls in love with Chris Hemsworth's character, a fallen Norse deity determined to defend Earth from his evil brother (Tom Hiddleston). Using his signature Shakespearean theatrics, director Kenneth Branagh gives the hammer-wielding hero a dramatic and entertaining introduction. For the critically panned sequel "Thor: The Dark World" (2013), Portman made a comeback.
JACKIE (2016)
"Jackie" (2016) – Portman received critical acclaim for her portrayal of Jacqueline Kennedy Onassis in this biographical drama that focuses on the aftermath of President John F. Kennedy's assassination.
Jackie Kennedy (Natalie Portman) struggles to deal with her grief after the assassination of her husband while preserving his legacy.
Why it's fantastic One of the most famous and significant women in American history is profiled in Jackie, a compelling and personal film. The screenplay for the movie was written by Oscar-winning writer Noah Oppenheim and was directed by Pablo Larran. The main subject of the movie is what happened after President John F. Kennedy was killed in 1963, as observed by his widow Jackie.
Jackie, who must contend with her personal tragedy, political pressure, and public scrutiny, is portrayed by Natalie Portman in a remarkable and engrossing performance. Jackie's speech, mannerisms, attitude, and emotions are expertly and sensitively captured by Portman.
ANNIHILATION (2018)
Best Natalie Portman Movies
"Annihilation" (2018) – Portman starred as a biologist who ventures into a mysterious and dangerous zone known as "The Shimmer" in search of her missing husband.
Portman plays a biologist who ventures into the perilous and mysterious region known as "The Shimmer," where the laws of nature are gradually dissolving, in Alex Garland's haunting and frightening sci-fi thriller. In the same vein as "Ten Little Indians" and "Alien" before it, "Annihilation" finds that every woman on the mission suffers a terrible end.
These are just a few examples of Natalie Portman's diverse filmography. She has also appeared in other notable films like " VOX LUX" (2018), "Garden State" (2004), "A Tale of Love and Darkness" (2015), and "Lucy in the Sky" (2019). There are many more Best Natalie Portman Movies.