Benefits of a VPN You Should Know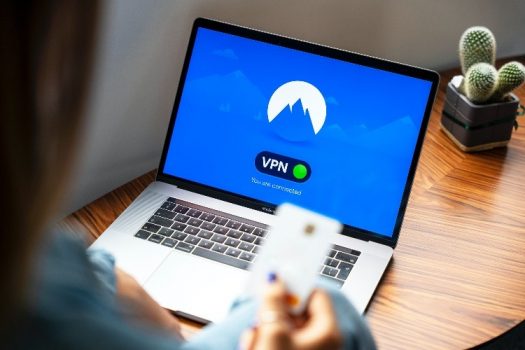 Benefits of a VPN are numerous – Basically, a VPN (virtual private network) is the simplest and most efficient solution for users to safeguard their internet traffic and maintain their online identities. Your internet data is sent through an encrypted tunnel that no one can see, including hackers, governments, and your internet service provider, when you connect to a secure VPN server.
VPNs allow users to keep their online activities secret and gain access to sites and services that would otherwise be unavailable.
Companies use VPNs to link large workforce like they are all in a central office utilizing the same local network, with less advantages for people than a personal VPN.
What is a VPN?
A virtual private network, or VPN, encrypts data as it travels across the internet from one location to another. A VPN keeps your online activity, search history, downloaded files, and location protected in a private tunnel rather than going across the open highways of the internet.
The reasons for utilizing a VPN differ from person to person. A VPN can protect you from hackers and other hazardous cybercriminals, but it may also provide you with unfettered and anonymous internet access.
Basically, in simple words, a VPN lets your data to go from your devices to another point on the Internet, most likely in another country, and then onto the public Internet through an encrypted connection. A decent VPN service will encrypt and secure your data while also concealing the source and device details.
What are the Benefits of a VPN?
Protect Your Network
An app or website might track your internet activities without your awareness. They can then evaluate the information they've gathered and attempt to target you with advertisements based on it. If you don't use a VPN, you could see a lot of pop-up advertising, which can be annoying and disrupt your browsing.
People, software, and web browsers will be unable to access your connection if you use a VPN. This ensures the security and anonymity of the information you send and receive.
Benefits of a VPN is to Protect Your Personal Information
Hackers can intercept sensitive information you submit on websites using a number of techniques. They can use that information to impersonate you and get access to your bank accounts, credit card information, and other personal information. High-level security, such as 256-bit encryption, is available with a VPN. Anyone who is able to intercept your internet conversations will see meaningless, jumbled text and characters.
Benefits of a VPN is to Prevent Data Throttling
If you have used a certain amount of accessible information, the data throttling occurs, and your Internet service provider (ISP) then decides to slow down your service. If you use a VPN, you may escape a data cap, especially when your ISP can not even see the amount of data you use. For employees who must utilize data plans on their smart devices while accessing the Internet on the road, this is very useful.
Benefits of a VPN is to Prevent bandwidth throttling
Your throttles on bandwidth are when your ISP or someone else who controls how your network functions deliberately slow down your Internet speed. This is sometimes done when you visit or interact in specific websites. When using a VPN, you may encrypt traffic from your device. Others cannot view the websites you visit by use of encryption.
Since the thrust of the bandwidth sometimes results from the sites which you visit, or from the sort of activity which you do, you cannot throw it down in such instances if your ISP can not see the data traveling to or from your device. They can still limit the bandwidth for their other subscribers during specific periods of the day.
In most cases, your internet connection will not be used to throttle employees and others but they can disguise their data transfer using a VPN and eliminate the potential.
Get geographical block services Access
You can access geographically-blocked contents such as Netflix or other websites over a virtual network. The IP address and geo-location are hidden. Your content supplier believes that you access the contents from another place and access regional websites. The terms and conditions of the services to be accessed should always be checked and approved. Note that when you do not comply and agree to their terms and conditions, certain nations charge sanctions for the VPN use.
Censorship through bypass on foreign visits
By offering access to particular websites, VPN can let you bypass geographical boundaries. Some governments are not permitting access to content or restricted content on social media. This content may be accessed through VPN, as it masks from your actual ISP location. You should always be aware and mindful that the use of a VPN is legal to access specific blocked websites and that your rules of service should be followed and complied with. Before using a VPN you should know the laws, rules and regulations of the nation as its usage in a few places is not legal.
Watch Most Region-Blocked sports
Sports that are restricted to a certain geographical area can be viewed.
One of the advantages of utilizing a VPN is that you may get regional sports content that is geographically limited and inaccessible in your area. Many television networks and websites, for example, do not enable access outside of a certain nation. If you use a VPN, you will be able to access and see them regardless of your location. It aids in the realization of the unthinkable. To avoid fines, remember to respect the terms and conditions of your video streaming service as well as the laws of your country. If you do not follow the VPN laws, you may face penalties or fines in some countries.
Buying cheap tickets
As you may be aware, each airline operator  and reservation center charges various fees for different countries, thus utilizing a VPN to purchase inexpensive flight tickets is a viable option. If you want to acquire a cheap airline ticket, look for a state with a low cost of living, compare the price of a ticket to the cost of living in your current location, and then connect using a VPN to lower the cost of tickets. A VPN's benefit is that it allows you to quickly obtain a low-cost ticket. Other rental businesses, as well as internet services, are in the same boat.
Disadvantages of a VPN
VPN Drawbacks there are several disadvantages to using a VPN service that is either cheap or free. The following are the drawbacks of utilizing a VPN:
Some nations have banned it
Because its use is illegal and outlawed in some places, you must constantly be aware and delicate when using a VPN. So, don't forget to double-check the law or you'll get fined.
Slow Internet speed
Sometimes, when using a VPN, you might receive sluggish internet speed since it encrypts and redirects your Internet connection. This, then, is one of the VPN inconveniences.
Read >>>>> How to Download and Install 911 VPN
Paid VPN is better
Many free VPN services are available, but cannot provide full security or safety. However, it is not an intelligent option just because they are free and display intrusive advertising. However, your privacy might still be at danger if you decide to utilize it. Therefore, a premium VPN service is the best alternative for total safety and security. This is why VPN service could not be cheap, as the membership price each month is charged to everyone. With service quality, the price of a VPN service increases.
Usually difficult to set up
A VPN is not always straightforward to set up and install. Depending on the variations, it is not simple to set up occasionally. Always be attentive to select a newcomer that is easy to set up, which doesn't make it easy to set up.
Quality of encryption
The encryption quality of VPN might be one of the downsides. The type of encryption that your VPN provider is using must be able to be identified. We recommend that you choose a VPN with military encryption (AES 256-bit encryption). It can only protect you against hackers and spying ISPs. You should not log your internet activity on your VPN service, too. Before you buy a safe and efficient VPN, you may read reviews that assist you obtain strong encryption.
Features of a VPN
VPN encryption is available in 128-bit or 256-bit versions.
No logs are kept. This feature improves customer satisfaction and loyalty.
A VPN can be used on several machines or devices.
It provides a large number of server locations from which to pick, i.e., it provides a diverse selection.
It offers DNS leak prevention, which means that if your VPN connection fails, a reputable VPN will assist keep your information safe and private.
Summary
To sum up the benefits of a VPN goes thus better VPN has put a stop to people's concerns about the security, privacy, and safety of their information and data. Many people are figuring out how to avoid being monitored while doing online chores and activities. VPN is the greatest choice since it prevents thieves and internet service providers from tracking your online activities. To ensure optimal connectivity, speed, safety, and security, it is always preferable to use a premium VPN. A purchased VPN shields you from cybercriminals and protects you from their attacks.